Holding a Colour Party is a good way of having a bright, lively get together.
Here's some advice and tips for holding a Colour Party that your guests will surely love.
Obviously first you have to decide "which' colour.  See further down the page for the 'meaning of colours" which will help you decide.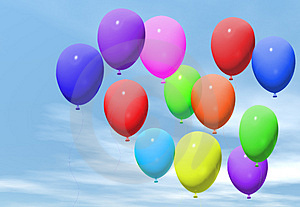 Decorations
Balloons and streamers are a must for a Colour Party! Try to get as many decorations for the day as you can. Bold, bright colours are best. If you arrange balloons of the same colour in clusters the effect will be striking.
You can also choose a colour for that day and decorate the whole house in that colour. Tell the guests to come dressed in that colour, head to toe!
Food Suggestions
Using food dyes can easily liven up cakes and other foods. You can also add this to other things such as potato salad, boiled eggs or even lightly brush dye across bread to use in sandwiches. Food dye is also perfect if you've chosen a specific colour for the day.
Serve food that's as colourful as you can. Fruit would be perfect if arranged in large bowls according to their colour.
You could also try using fruit such as grapes, bananas, strawberries and other foods to arrange a large mosaic upon the table. Make sure to take a photo before the guests eat it up!
Games & Activities
Face Paints are a fun way to add to the colourful mood. Be sure to have enough to go around so no one is left out.
Colour Wheel:
When you send invites, include a list of colours for people to choose and come dressed in.
Before the day, you can easily make a colour wheel by cutting out a large circle of cardboard and painting it with each colour in sections.
Make a hole in the centre and fix it to another piece of cardboard or Styrofoam by using a nail or a golf tee. A second golf tee, clothes peg or strip of cardboard can be fixed at the top to be used as a marker.
On the day, draw silly tasks from a hat or bag and give the wheel a spin. Anyone wearing the colour that the wheel stops on has to perform the task. The sillier the tasks, the better the game will be!
Meaning Of Colours
Planning a wedding or a party around a colour takes imagination and style.
Knowing and understand what colours mean will help you decide…
Red
The creative spirit of love. True love stronger than thorns. True red is the lover's rose.
Amaranth Red: long standing desire
Cardinal Red: sublime desire
Carmine: deceitful desire (not true to color)
Fiery Red: flames of passion.
Yellow
In Victorian times, the rose meant jealousy. Maybe our thoughts have changed. Today it is given as a sign of friendship, sometimes as a sign of sympathy. It is the rose of familiar love and domestic happiness. The yellow rose of Texas is the only rose for me.
White
Loyalty, penetrating and platonic love. Able to captivate secret thought, love stronger than death. In England there is a saying about the white rose referring to the sub rosa, death to him who under my secrecy betrays his oath. In Scotland when the white rose bloomed in autumn it was seen as a token of early marriage. The rose of confession, the bridal rose, the rose of servitude. Can be otherworldly.
Pink
Grace, gentility, elegance and refinement. The rose of sweet thoughts.
Purple
Purple adds enchantment. Can be transcendental. Possible need to proceed cautiously. The priests wear lavender during lent, a time of discretion. Purple can indicate opulence or majesty.
Orange
A warm color that says, I am proud of you.
Year's ago we threw a BLACK party, which at first seemed easy and it was. We decorated with a dark theme and everyone turned up in black, but the party mood was also black so be careful.