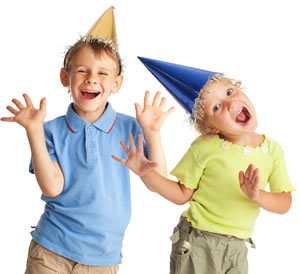 I know a thing or two about boys and parties. For one I am a boy and two, I have a boy and together we have experienced 22 parties so far (his and friends).
Together we wrote this guide about throwing parties for boys.  We talked about what was good and bad, asked a few friends and parents before coming up with this guide.
Lets start with a little helpful information about boys do's and dont's.
Home or Party Out
One of the first considerations is where to hold the party.  Hosting the party at a venue will cost more but the cost has to be weighed up against work and time-load.  Party venues take care of time, food, activities, cleaning up, safety and fun.
As Kimberley puts it perfectly, "if you're anything like me, once your kids hit school-age, it becomes a sanity-pleaser to outsource your child's birthday parties to outside venues. The kids are generally louder, messier, more demanding and crave the variety".
There are also two types of HOME parties.  One is where the parent provides the entertainment, the other is where a Party Company comes to you.  These types of companies come in many varieties but we'll discuss them later.
Food isn't and shouldn't be a top priority for boys.  They do want to eat and drink but don't let it get in the way of having a good time.
Boys Party Guide | Top 10
We've broken the parties up into 2 groups, Home and Venue:
Home | Boys Party @ Home
Art & Craft Party – this may seem a bit girly but it keeps boys busy
Bus Party – activity bus (it comes to you)
Circus Parties & Workshops
Climbing Wall (it comes to you)
Farmyard | Reptile Party (farm comes to you)
Jumping Castle | Trampoline
Comedy / Magic Show
Racing Cars
Theme Party – where the boys dress up in theme with decorations and entertainment center around the theme
Rockstar – Karaoke, Video, Pictures
Venue | Hosted Boys Party
Water Park
Play Centre
Bowling Alley
Adventure Park
Go Karts
Rockstar – Karaoke, Video, Pictures
Skating – Roller & Ice
Video – F1 Racing, Battle
Laser / Tag / Paintball
Sports Centre – gymnastics, martial arts, multi sports
and remember, some of these parties can be combined.  Invite a face-painter along to a rockstar party for example.