Royal Wedding Party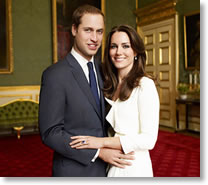 Royal wedding: get set to party!
Royal Weddings don't happen every day so the royal wedding of Prince William and Kate Middleton on Friday 29th April, 2011 at Westminster Abbey is a great reason to get together with friends and have a 'right royal wedding party'.
With the nuptials confirmed for 11am London time, or 8pm here in Australia, all networks are set to air the service from Westminster Abbey.
Royal Wedding on TV
While all channels will televise the wedding, believe it or not there is a clash with football codes which will test Channels 9 and 7, which are both slated to broadcast up to three matches on the same night. Either way, you will be spoilt for choice as to what channel to watch as they all will show coverage of the wedding.
Audience figures for the wedding telecast are poised to make it the most watched event in Australian TV history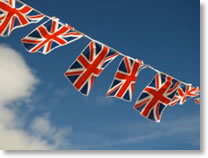 Street Party
In England, many people around the country will throw a street party for their neighbours, a tradition dating back to the great wars when the common people would celebrate national events like the end of a war.
Given its going to be night time here in Australia, street parties but not be the go, although a backyard or BBQ might be the go if the weather permits.
Type of Party
You will want to decide on a basic theme for your party whether you want it to be classic elegance, fairy princess, royal blue or down to earth Barmy Army blues.
Costume and Dress
We always say that costume parties are the best, so why not invite your guests to dress in a Royal Theme.. something British, elegant, gloves and hats, suits. Remember, the official Royal Wedding Dress as specified on the invitation: Uniform, Morning Coat or Lounge Suit.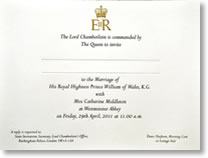 Invitations
Imagine your guests receiving a Royal Invitation?
Its not that hard to do.. with some ideas from professional invitation suppliers, a little imagination and a printer and you are away.
This invite shown here > is a copy of a real invitation sent by the royals to their guests. We expect Kate and William got our address wrong because ours as not arrived but we are waiting patiently.
Food
The wedding reception will be held at Buckingham Palace and will be hosted by Her Majesty The Queen. Now, no-one is expecting you to match the fare provided by Liz but here are some ideas for your wedding party..
B.B.Q
Wedding Cake
Party pies and pasties
Sandwiches
Who's Who?
A who's who guide to Prince William and Kate Middleton's crowd.
Maid of Honor
It was a foregone conclusion that William and Kate would pick 26-year-old Philippa Middleton, aka Pippa, to stand next to her sister during the wedding ceremony. Considered a British socialite, she is a professional party organizer and it stands to reason she is bringing some of her considerable experience to the table for this wedding. There were some unflattering remarks about her age that suggested a younger person would be a better choice as chief bridesmaid, but then this British royal wedding is by far more independent from public opinion than others.
Best Man
It was just as clear from the onset that the prince's younger brother, Prince Harry, would stand up with him at Westminster Abbey in the role of best man. Third in line for the British throne, the 26-year-old prince has remained in the shadow of his older brother.
Bridesmaids
The Lady Louise Windsor is the 7-year-old daughter of the Earl and Countess of Wessex. The Earl is Prince Edward, making young Lady Louise the British queen's youngest granddaughter. Having had already a lake named after her, this honor is bound to take the cake.
The Honorable Margarita Armstrong-Jones is 8 years old. She is the daughter of Viscount and Viscountess Linley, making her the granddaughter of Princess Margaret, Countess of Snowdon. When attending a Christmas Day service with her family at St Mary Magdalene, the young girl quickly became a media darling; will she put on a repeat performance in April?
Further participating will be young Miss Grace van Cutsem, who vies for the spot of the youngest member of the wedding party at 3 years old. She is the daughter of Mr. and Mrs. Hugh van Cutsem. The girl is the goddaughter of Prince William. Also only 3 years old is Miss Eliza Lopes, who is the daughter of Mr. and Mrs. Harry Lopes.
Pages
Master William (Billy) Lowther-Pinkerton is the 10-year-old son of Mr. and Mrs. Jamie Lowther-Pinkerton. Master Tom Pettifer is 8 years old and the son of Mr. and Mrs. Charles Pettifer. The young man is the godson of Prince William.
Royal Wedding Links
St. Jamesís Palace launched an official hub for the forthcoming wedding of Prince William and Kate Middleton.
As anticipation builds for the event, visitors can get their royal fix via a stream of news, pictures and videos at officialroyalwedding2011.org. People are also invited to follow updates via Twitter, YouTube, Facebook and Flickr.
The first details about Kate Middletonís wedding dress will be posted on the site, a spokesperson for St. Jamesís Palace wrote. It might even live stream a broadcast of the big day.