Potluck Dinner Party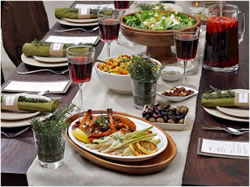 The idea of a Potluck Dinner Party is simple - each guest brings a dish to share. While the name suggests a random assortment of dishes, a little planning will ensure that everyone brings something different.
Organisation is simple. Call or e-mail your friends, let them know your hosting a potluck party, and assign a dish for them to bring. It's that easy.
As host, you can decide what you will provide. Some hosts like to provide drinks, while others prefer to provide the main course and ask guests to bring sides and desserts.
For those attending the party, the dishes they bring should be easy to transport and need little preparation at the party, aside from re-heating if required.
There really is no limit to what you can do with a potluck party. Instead of food, the host could cater and guests bring a different spirit for a potluck cocktail party. A potluck afternoon tea could feature cupcakes, sandwiches and a variety of teas.
A good idea before calling your friends is to decide what sort of dishes would go best together. Visit some recipe web sites for inspritation.
Recipes - Over 25,000 free recipe idea's.