Party Security : Doorman Crowd Control Bouncers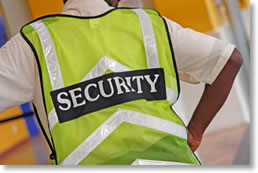 Do you need crowd control or a doorman for your party? A simple suburban party can be spoilt by a few gate crashers, so protect your guests and event by employing the services of professional security services.
Security service companies provide suitably dressed, professional security personnel to blend into your event and ensure complete control.
Party Security Services
Invitation list checks
Perimeter checks
Instructional requests
Local Police integration
Security personnel are qualified security guards who are trained in customer service, occupational health and safety, loss prevention, control room operation and emergency response. We can discuss your particular requirements and tailor skills accordingly.

Servicing you 24 hours a day, 365 days a year, our trained and licensed staff are committed to delivering you quality security services.
Security guards
Alarm response officers
Mobile patrol officers
Crowd control personnel
Security event staff
Emergency medical personnel
Concierge/ reception personnel
Covert security personnel
Loss prevention officers
Staff and valuables escort service
Security Service Locations
Melbourne Geelong Ballarat Mildura Victoria
Sydney New South Wales
Brisbane Cairns Rockhampton Gold Coast Sunshine Coast Queensland
Perth Western Australia
Adelaide South Australia
Darwin Northern Terrritory
Hobart Devonport Tasmania
Latest Additions at www.onlyparty.com.au<br> http://www.onlyparty.com.au/
Glam Event Security is proud of its comprehensive services that go beyond highly trained security guards patrolling your event. We also provide a full spectrum of professional availability, such as crowd controllers, traffic controllers, RSA officers, first aid officers, fire marshals with a full range of tagged extinguishers, safety officers, ticket booth staff, Cash in transit service, http://www.onlyparty.com.au/party-profile.php?id=6817
Our security company in Australia management has used their collective experience of over 5 years to determine the needs of protection for any industry. http://www.onlyparty.com.au/party-profile.php?id=6816
Guardall provides party security and event security services throughout south australia and adelaide. We provide entry security, perimeter protection, ejections and overall safety for your party or event. http://www.onlyparty.com.au/party-profile.php?id=6769
Planning a party, special occasion or event? We provide party security services throughout Brisbane, Gold Coast, Sunshine Coast and other areas of Queensland. All sizes, all requirements, we can help. We are licensed crowd controllers, rsa accredited and can provide medical first aid services. Our party security services include access control, perimeter control, peaceful resolution and http://www.onlyparty.com.au/party-profile.php?id=6704
Centurion Security Corporation Pty Ltd is a Proud Australian Owned & Operated Company Providing a wide range of Security Services, Crowd Control Services, Body Guarding & Investigation Services. Centurion Security Corporation Pty Ltd has been operating for over 7 years starting from Melbourne making it the Hub of Our Operations and now covering all 8 States of Australia and Expanding soon to The http://www.onlyparty.com.au/party-profile.php?id=6647
We are reliable professionals with experience in the security industry ranging from crowd control, cit, bodygaurding to name just a few. With years of experience, we listen to our customers and work with them to address their needs through innovative solutions. Services ■ crowd control ■ bodygaurd ■ patrols ■ V. I. P parties ■ static ■ unarmed http://www.onlyparty.com.au/party-profile.php?id=6636
Safety for people and property… Constant visual surveillance gives your guests peace of mind allowing them to enjoy your event without incident. Rent a Cop crowd control officers are experienced and trained to follow strict procedures. Phone Rent a Cop on 07 3201 7060 to talk with a trained security officer about your next event. http://www.onlyparty.com.au/party-profile.php?id=6088
SWC Security operates in all market segments and has a customer-and staff-centric philosophy. We focus on offering security management expertise in conjunction with the personnel resources necessary to offer and aid the entire security program. We deliver "one-stop" end-to-end services through our planned corporation with "the best in the business". SWC Security Australian Management Team http://www.onlyparty.com.au/party-profile.php?id=5960
When it comes to parties, it's a definite fact you need some kind of a doorman to avoid any sort of unsocial behavior and avoid the gate crashers in order to protect the function itself and the guests contained. You can simply employ one of the best professionals and security services providers through MGS. The metropolitan guard services are specialized and working professionals in the area http://www.onlyparty.com.au/party-profile.php?id=5876
Business security solutions can provide you with high quality guards for your next party. Without Security a Houseparty can go horribly wrong! It is extremely important to have qualified security guards for all of your events including house parties. Business Security Solutions can provide appropriate guards and conduct security planning and risk assessments for every event. http://www.onlyparty.com.au/party-profile.php?id=5854