GUIDE - Party Drinks & Alcohol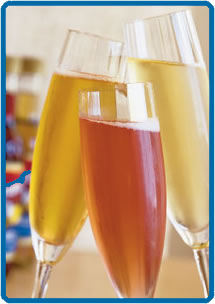 Drinks Alcohol and Refreshments
If your guests are expected to bring their own drinks, let them know on the invitation. Don't forget the ice, you can never have too much ice at a party. Also consider making a punch or two; one alcoholic and one without!
Drinks Checklist
Although most parties are BYO, you might consider hiring a barman for the night, who can whip up fancy cocktails and create quite a bit of atmosphere!
Basic Tools (why not print this page?)

Bottle opener
Corkscrew
Can opener
Measuring cups and spoon set
Bar spoon with long handle and muddler on the end
Juice squeezer
Electric blender
Cutting board and a sharp knife
Ice bucket with an ice tong
Mixing glass
Shaker and strainer
Bottle sealers
Towels
Boxes/jars to store garnishes in
Glassware
Extra's
Cocktail napkins and coasters
Swizzle sticks
Straws, both long and short ones
Cocktail picks
Sugar and salt (for coating rim of glasses)
Shopping list
Brandy
Gin (dry)
Vodka
Bourbon
Scotch whiskey
Rum (white / dark)
Vermouth (dry / sweet)
Tequila
White and red wine (dry)
Beers
Liqueurs:
Advocaat (like brandy eggnog)
Amaretto (almond)
Anisette (anise)
Benedictine (herbs)
Chambord (black-raspberry)
Chartreuse (herbs)
Contreau (oranges, like curaçao)
Crème de Cacao (cacao)
Crème de Cassis (blackcurrant)
Crème de Menthe (mint)
Crème de Violette (lavender)
Crème Yvette (violets)
Curaçao (oranges)
Galliano (herbs and spices)
Godiva (chocolate)
Goldwasser (herbs and spices, flecked with gold leaf bits)
Grand Marnier (champagne and curaçao)
Irish Mint (whiskey and cream)
Kahlúa (coffee)
Kümmel (caraway)
Mandarine Napoléon (tangerine)
Midori (melon)
Ouzo (anise)
Peter Heering (cherry)
Prunelle (plum)
Sabra (orange and chocolate)
Sambuca (wild elderberries)
Southern Comfort (peach)
Strega (orange and spices)
Tia Maria (coffee)
Triple Sec (oranges, like curaçao)
Mixers, flavourings and garnishes
Club soda
Tonic water
Ginger ale
7-Up or Sprite
Cola
Juices:

Tomato juice
Orange juice
Pineapple juice
Cranberry juice
Grapefruit juice

Bitters
Grenadine
Maraschino liqueur
Worchestershire sauce
Tabasco sauce
Milk
Coffee
Heavy cream
Cherries (maraschino)
Green olives (small)
Cocktail onions
Lemons, limes and oranges
Sugar, salt and pepper.
Don't forget the non-alcoholic drinkers!
And remember to drink responsibly! Help your guests by pre-arranging taxi's and transportation. The easier you make it for your guests to be driven home the more likely they are to oblige.